This year I thought I'd be all low-key, buying my own PAX weekend pass.
Who let me onto this awesome panels anyway?!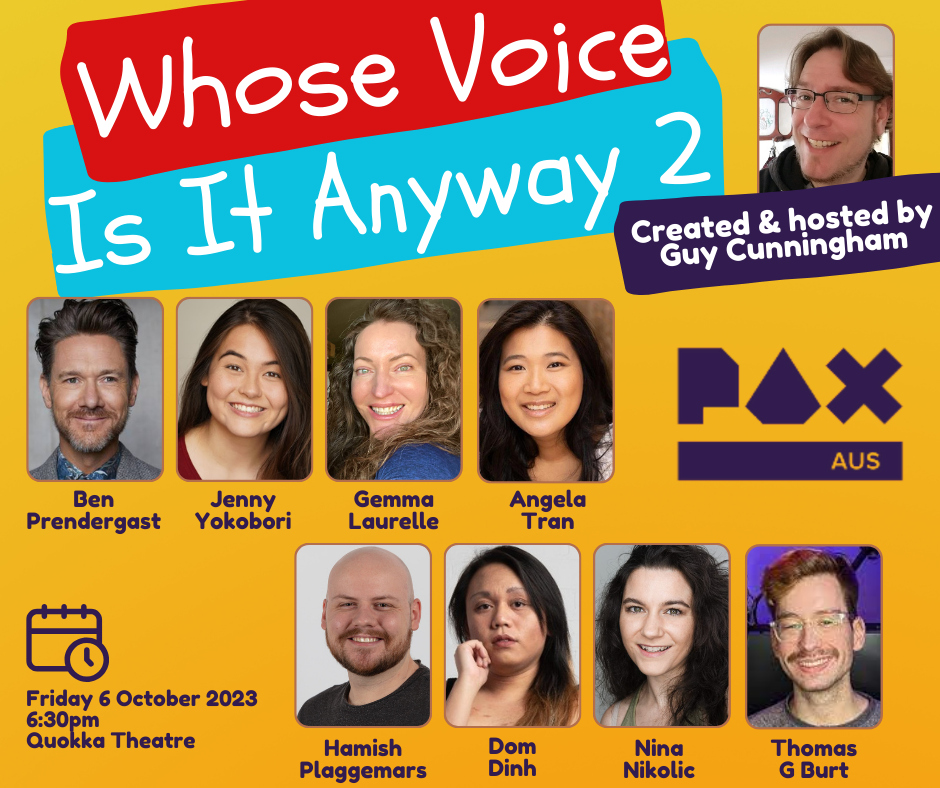 Whose Voice Is It Anyway 2: The Voicening
10/6/2023, at 6:30:00 PM in Quokka Theatre
Hosted by Guy Cunningham, we'll have a bunch of bona fied real – and honourary – Australian voice actors competing in fun improv challenges! The contestants: Ben Prendergast, Jenny Yokobori, Gemma Laurelle, Angela Tran, Hamish Plaggemars, Dom Dinh, Nina Nikolic (oh, that's me), and Thomas G. Burt, produced by our great mate Douglas John Bicker.
Villains And Why You Need Their Dastardly Ways
10/7/2023, at 1:30:00 PM in Galah Theatre
Create your hero's perfect foil! A panel with practical advice on writing and implementing villains for TTRPGs. Featuring tips for growing your villain's motivations, exploring archetypes, and facilitating their interactions with players to empower the narrative. From the mouths of Cammie (Illustrator, Game Master & Content Creator), Alec Shea (Composer, Sound Designer & Voice Actor), Jerry (Professional Game Master), Nina Nikolic (oh, that's me), and Thomas G. Burt (Actor & Voice Artist).
If you'll be hanging around PAX AUS, come hang around with us! Promise we'll make it worth your while with at least a chuckle or two.
It's only a few weeks away!
Some panels won't be streamed, so you'll need to be sure to get your butt in a seat. Can't make it? No stress! Just be sure to say g'day if you see me around the show floor.
Keen to work with a relatable and totally chilled out but mega-awkward gamer lady? Let's chat about your campaign, or if you need voiceover for a project click here instead!